A few years ago I ran into Tim Ferris after his speech at a WordCamp in San Francisco. I even told him about my new blog, How To Vanish, and he said the name was awesome.
Tim Ferris is a two time New York Times best selling author of books in two different genres: The Four Hour Work Week and The Four Hour Body. I have bought and read both and would recommend them. Please use my Amazon affiliate links to help support HowToVanish.
Tim is an excellent example of a successful entrepreneur. The type of person who creates massive value for society through great products, keen insight, job creation and profitable ventures.
CALIFORNIA AND AMAZON.COM
California has been perpetually struggling with large budget deficits, cash shortages and systemic financial mismanagement. In early July in an attempt to raise revenue the California legislature passed a bill into law that requires large out of state retailers to collect and remit sales tax to California if they have affiliates in the state.

In defensive response Amazon.com canceled its affiliate program with all California domiciled affiliates. This same set of events has happened in other states.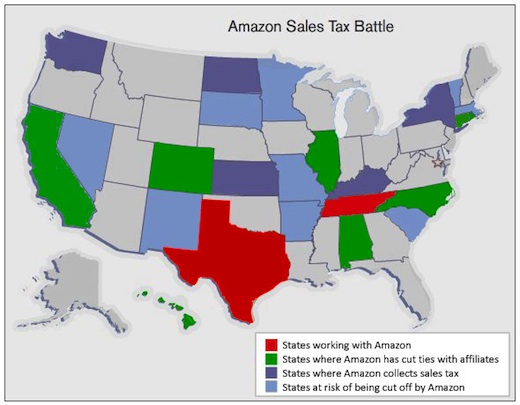 TIM FERRIS'S EXPERIENCE
[pullquote]For whatever reason Tim has willfully chosen to be California's bitch when he does not have to be by allowing his income stream to be castrated.[/pullquote]
Tim Ferris used to earn some serious dough as an Amazon affiliate.  In Tim Ferris's Random Episode 16 at 13:44 he says about his Amazon earnings, "In any case, that adds up to in some cases uhh high in a few cases mid to high five figures a month. It really adds up. And that was just canceled, eliminated overnight."
Kevin Rose, founder of Digg.com, responded, "That sucks man, that is a lot of cash to lose." to which Tim responded, "It does."
[HTML1]
INCOME STREAM REPLACEMENT COST
Kevin is not joking. Losing a $10,000-$90,000 per month passive income stream is material to anybody. Amazon affiliate payments are great because all you do is put in the bank details and they send the payment automatically each month kind of like a dividend or interest payment.
If Tim were to follow the principles in Four Hour Work Week and replace the lost Amazon income stream with something which does not take much time or attention then what would it take?
Using Google Advisor to find a 1-year CD to yield about $50,000 per month would require about $27,500,000 in principal. Exxon is trading at about $82 per share and paying a dividend of $0.47 per quarter so it would only take about 320,000 shares which would cost about $26,240,000.
AHEAD OF THE CURVE - FIVE FLAG THEORY
Back in October 2010 we wrote about how those people domiciled in Philadelphia need a $300 Business Privilege License to operate their blog. Perhaps California will follow their lead and Tim will have to get a Business Privilege License.

Even earlier in March 2010 we wrote, in  Colorado vs. Amazon: Who Wins In A Fight?, about how Amazon cut off Colorado affiliates in the exact same way and what Colorado affiliates could do to protect their income.  Those who followed our advice protected their income streams.
As the politicians continue intentionally exacerbating The Greater Depression more state, local and national governments will continue greedily grabbing after more money. Of all the risks in the economy I think jurisdictional risk is the most potent.

Sure, this poses a significant problem to the successful entrepreneur but they are, after all, problem solvers as an ounce of prevention is worth a pound of cure.
Tim Ferris even wrote a great post about this called How To Be Jason Bourne: Multiple Passports, Swiss Banking, and Crossing Borders which includes an introduction to the Five Flag Theory.

A theory I devote almost the entire sixth chapter to in The Great Credit Contraction.
But Tim does not like to get political and it appears he has not followed the five flag theory he wrote about. For whatever reason Tim has willfully chosen to be California's bitch when he does not have to be by allowing his income stream to be castrated. So how is that working out for you?
PROBLEM SOLVING
[pullquote]How could Tim Ferris have pre-emptively solved this issue that resulted in the loss of about $50,000 per month of income?[/pullquote]
Pretty easily actually. For a few hundred dollars he could have setup a privacy conscious New Mexico LLC where no income is due if not New Mexico sourced or in another jurisdiction like Oregon where there is no state sales tax.

For a few thousand dollars he could have gone international with a Saint Kitts or Hong Kong company, magnifying the positive effects. Considering this would be about one week's of earnings, take a couple hours to get all setup and the income stream would be protected for years, I think it would have been a pretty wise thing for Tim to do.  

It will likely be many years before Amazon cuts off affiliates from these places.
Tim likely pays large amounts of income taxes to California, too. Imagine if he were domiciled somewhere like New Hampshire or Alaska which have neither state sales tax nor state income tax. He and those like him who earn at least $50,000 per year in location independent income really should consider our product State Income Tax Optimization. It is for those people who want to design their lifestyles by choosing where their state tax domicile is when they tired of being someone's bitch.
CONCLUSION
[pullquote]I wonder what will be California's next step in designing Tim's lifestyle. Maybe they will decree he has to marry Paris Hilton for the public good and safety.[/pullquote]It appears the individual is just a pawn and this battle over the bottom line is only going to intensify.

Politicians view you as their human livestock to be milked or turned into hamburger. Some, like Tim Ferris, appear to enjoy milking machines tickling their tit because they choose to endure the miking when they do not have to.

In my opinion, the wise entreprenuer is diversified not only across states but also countries with trusts, LLCs, multiple passports, addresses, bank accounts, etc.
Fortunately, for the location independent entreprenuer, as opposed to a brick and mortor one, it is somewhat easier to legally plan their affairs and minimize the risk to their business, income and lifestyle.

For those new to this way of thinking, to get started you might consider reading more articles around here or our flagship product: How To Vanish The Book.
Ready for round two Tim?
[HTML2]