Stratfor's website was hacked by Anonymous, customer details including names, addresses and, according to Reuters over 4,000 credit card numbers were copied and distributed to the public while AnonymousSabu tweeted "Over 90,000 Credit cards from LEA, journalists, intelligence community and whitehats leaked and used for over a million dollars in donations".
Being a former Stratfor subscriber I am extremely annoyed. However, I practiced proper privacy hygiene using a ghost address and a disguised credit card so the potential negative effects are likely minimized.
Nevertheless, I am extremely displeased that Stratfor, by not offering to accept BitCoins, has failed to take proactive steps to allow subscribers to protect their privacy and security.

  Absolutely ridiculous. These Empire cheer-leading neocons know or should know about protocols like BitCoin which have geopolitical significance.
Consequently, I canceled my subscription with this liability of an organization. If they decide to accept BitCoins then perhaps I will reconsider a subscription. Here at HowToVanish we do not take anyone's time, attention, privacy or security for granted. Did you know the average victim of identity theft spends thousands of dollars and hundreds of hours cleaning up the mess?
But I doubt Stratfor cares much about that potential cost born by their customers. If they did then they would follow our example. You see, for us privacy is a serious business and why all How To Vanish products are available with payment via BitCoins or cash.
HOW TO GET BITCOINS WITH CASH IN AN HOUR
First, you will need a BitCoin wallet to have the bitcoins sent to. This could be with an exchange like Tradehill (used in this example but now defunct - for the latest information on learning how to get started with Bitcoin get a copy of The Free Bitcoin Guide), an online wallet service like Blockchain or using the free open-source client available at BitCoin.org.
Second, you will need to find a source willing to exchange BitCoins for your cash and BitInstant seems as good as any, will send the bitcoins to your Tradehill account and only charge 5% which is about the same cost American Express charges merchants. BitInstant accepts cash deposits at Bank of America and Chase branches which you can locate at TrustCash with only a zip code.
Third, now that you have located a nearby branch to use with BitInstant you can fill out the order form. For extra anonymity use a temporary email address from a service like Mailinator.com for the contact email. But I do not recommend this for the Tradehill account because Mailinator emails are available to the public so your account could easily be compromised.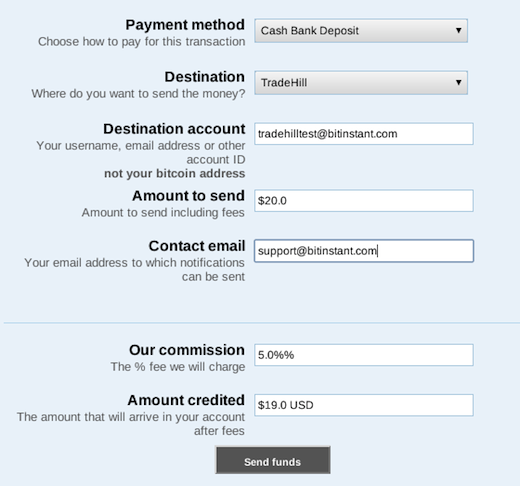 Fourth, wander, meander or waddle down to that bank branch and make the cash deposit. If you are too lazy or want another layer of privacy then have someone else run the errand to deposit the cash at the branch so you can avoid the noisy surveillance cameras. About 30-45 minutes after the cash deposit the bitcoins should be in your wallet.
Fifth, now that you have some bitcoins you should spend them! If you are new to How To Vanish then, of course, I would recommend How To Vanish The Book or one of our three new mini-guides that are about 35 pages on the topics of (1) Financial Privacy, (2) Personal Privacy or (3) Political Privacy.
CONCLUSION
Stratfor has shown an extreme level of disregard for the privacy and security of their subscribers by not accepting bitcoins. But this is merely a symptom of a larger problem: governmental interference in the payment market.
All merchants you deal with using credit or debit cards pose a significant risk to your privacy and open the door to identity theft. You may want to ask them to accept bitcoins.
If they refuse then reconsider the value of their goods or services and whether it is worth the liability of your personal and financial information being deposited in a transactional database to be breached at some unknown date in the future and potentially become a massive headache of identity theft. Plus, in the bitcoin economy there are now hundreds of merchants offerings tens of thousands of goods and services.
Now you know how to get bitcoins with cash in about an hour. So go get at least $20-100 worth of bitcoins sent to your Exchange account and try buying something like one of our privacy products. Once you see how easy, convenient and low cost in time, money and privacy bitcoins are then you will likely become a big fan and begin exerting economic pressure on your merchants to accept them.
Trust me, in this economy merchants will likely be happy to generate sales in any medium of exchange, especially one like BitCoin where the expenses are a lot lower. And The Free Bitcoin Guide will help you drastically reduce the learning curve.
[leadplayer_vid id="50EE16A99E032"]