INTRODUCTION TO LEGAL DISCLAIMERS
This page will discuss various legal policies associated with HowToVanish.com including but not limited to advertisements, disclaimer, commenting guidelines, privacy policy, email, copyright, disclaimer, position disclosure, conflicts of interest, etc.  There are plenty of more interesting pages to read than this one. This site is not free to operate nor is the content free to generate.  There are three ways to fund this site:  (1) general funds, (2) advertisements or (3) user funded through subscription or donation.  I have chosen to fund the site through advertisement and currently have no intention of a fee-based subscription. Nothing on HowToVanish.com should be considered tax or legal advice nor should any readers consider an attorney-client relationship to be formed unless there has been a formal engagement letter of the contract.
FTC DISCLAIMER
[caption id="" align="aligncenter" width="520"]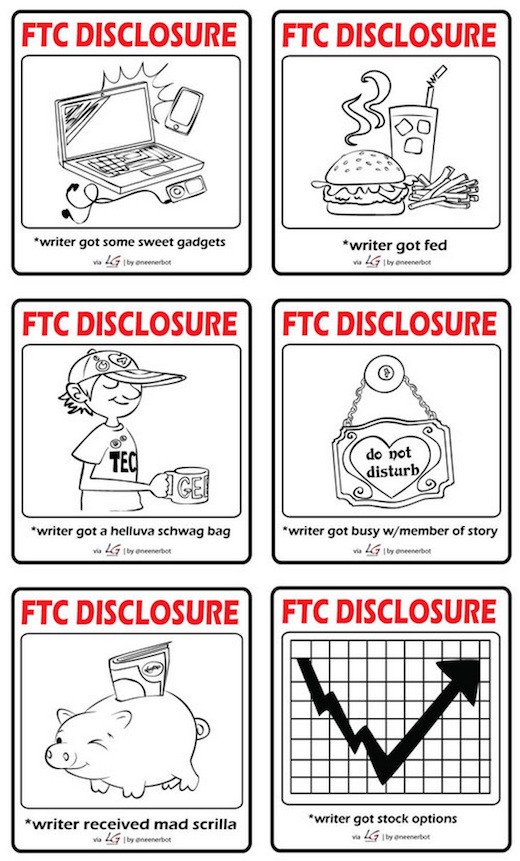 FTC disclosures[/caption]
This disclaimer policy is similar to John Chow's.
"The Federal Trade Commission (FTC) is bringing in new rules that will have a drastic effect on Internet marketers and bloggers. According to the new rules, if you blog for money or received any free stuff that is associated with a blog post, you have to disclosed it. Failure to do so could mean fines of up to $11,000 per violation.
The easiest way to comply with the new FTC rules is to have disclosure policy page that clearly outlines your relationship with readers and advertisers. The FTP only has power in the US. However, I have a feeling that these rules will eventually spread to the Canadian version of the FTC (whatever that is). To prepare myself, I've created the following disclosure policy and added it under my About page. If you're reading my blog, you should assume the following:
I make money from every post I put on this blog. If I'm not making money from every blog post, then it was an oversight on my part and it will be corrected soon.
Every link on this blog is a paid link. If it is not a paid link, then it was an oversight on my part and it will become a paid link soon.
Every product I write about on this blog, I get for free. If I didn't get it for free, then there was a miss-communication with the company that sent it and I will be billing them for the cost so the product becomes free.
I make money from every tweet I send out on Twitter. If I didn't make money on the tweet, then it was an oversight on my part and it will be corrected soon.
If you email me, all of the information in your email is mine to do with as I please, such as exploit for financial profit, use as blackmail, or quote on my blog.
The T-shirts you see me wear at trade shows. I get paid to wear them. If I didn't get paid to wear them, then it means I ran out of paid shirts and had to wear a free one. In which case, I will go to the company that gave me the free shirt and ask them to sponsor it.
If something on the Net is making a lot of money, you can bet I will be in on it. If I'm not in on it, then it was an oversight on my part and it will be corrected soon.
Just because I get paid to blog, tweet, wear T-shirts, etc. does NOT mean I will give you or your company a positive review, blog post or endorsement. As a matter of fact, chances are pretty high that I might slam you.
Hopefully, the above statement clears up any misunderstanding you may have about my blog posts or Twitter tweets. If you have any questions, you can contact me at my contact page. Just remember what I said about emails.
This disclosure policy was sponsored. Yes, I make money on my disclosure statement as well! Feel free to use this as a template for creating your own disclosure policy."
I hope that clears that up.
ADVERTISEMENTS & DISCLAIMER
The content on this site is provided as general information only and should not be taken as investment advice.  All site content, including advertisements, shall not be construed as a recommendation to buy or sell any security or financial instrument, or to participate in any particular trading or investment strategy or as an endorsement or recommendation of any good(s) or services(s).  If any endorsements or recommendations of specific product(s) or service(s) are made, such as Earth Class Mail, then the recommendation or endorsement  will be clear and unequivocal. If you have a negative experience with any good(s) or service(s) that is unequivocally endorsed or recommend then please contact us. This site does derive income from affiliate marketing which is where a commission is paid by the merchant to the referrer. Many different affiliate programs are participated in and the major ones include Earth Class Mail, Amazon, etc. Premier Ark LLC is a participant in the Amazon Services LLC Associates Program, an affiliate advertising program designed to provide a means for sites to earn advertising fees by advertising and linking to Amazon.com and Amazon and the Amazon logo are trademarks of Amazon.com, Inc. or its affiliates.  This means that you can help support the cost of the site by clicking on the links and purchasing from these service providers. To the best of my knowledge the affiliate relationships do not increase your cost and sometimes the affiliate coded links will contain special discounts. The ideas expressed on this site are solely the opinions of the author(s) and do not necessarily represent the opinions of sponsors or firms affiliated with the author(s). The author may or may not have a position in any company or advertiser referenced above. Any action that you take as a result of information, analysis, or advertisement on this site is ultimately your responsibility. Consult your investment adviser before making any investment decisions.
COMMENTING GUIDELINES
Comments should be relevant, brief, clear and constructive to the issues discussed.  I am a staunch advocate of the freedom of speech because of the advantage of allowing all ideas access to the marketplace.  However, I also am a protector of private property.  We encourage engaging, thoughtful, diverse and meaningful commentary.  Comments that reveal intellectual impotence or include ad hominem, personal, racial, religious or ethnic attacks are not permitted.  We continuously review and remove any inappropriate comments.  If any have sneaked by then please contact us so we can remove them.  The intent is to have reasoned analytical discourse and even as Mish phrases it 'violent disagreement' but devolving into an incestuous cesspool of chatter void of beneficial ideas will not be tolerated.  I fully support your right to start your own website for that.
PRIVACY & EMAIL
HowToVanish refers to and contains content published by a wide variety of authors. HowToVanish websites may use cookies, or collect any personal information other than email addresses for our free subscription newsletter administered by Google's FeedBurner. All registration records and information gleaned from your subscription to the newsletter, if any, are the property and reserves the right to use these records and this information for its own marketing or other purposes. No subscription information will be sold or otherwise provided to third parties.
Our advertisers, or other third parties (such as commenting or site meter software) MAY use cookies or other technology to attempt to identify some of your preferences or retrieve information about you. Most of our advertising is served by third parties and may include cookies that enable the advertiser to determine whether you have seen a particular advertisement before. Does not control the use of this technology or the resulting information and is not responsible for any actions or policies of such third parties.
We allow third parties called ad networks or ad servers to serve ads to you on HowToVanish.com. This information makes it possible for the ad technology, ad servers and ad networks to deliver targeted advertisements to you on HowToVanish.com. Do not have access to the cookies that may be placed on your computer by third-party ad technology, ad servers or ad networks. Maintains relationships with a number of third-party networks, including Google and Share A Sale Network. Those parties that use cookies may offer you a way to opt out of ad targeting.
Should you choose to voluntarily disclose personal information on our site in the comments, please be aware that that information can be viewed publicly and can be collected and used by third parties without our knowledge and may result in unsolicited messages from other individuals or third parties. Such activities are beyond the control of this policy.
COPYRIGHT
This website and all content is copyright © HowToVanish.com.  The content presented on this website is done so under the original work or in good faith of fair use.  The website, content and feed is for personal non-commercial use only and if you access the server to download or read a copy of the information then you agree to pay $10,000 per instance and this liability will only become effective if you bring suit in court. If you are not reading this material in your news aggregator then the site you are looking at may be guilty of copyright infringement. Please contact us immediately so so we can determine whether to enforce our rights.
If you feel any content, images, etc. presented on this website violates your copyright protection in anyway then please contact us immediately so we can resolve the issue.  A form is available at the end of this page.
SEVERABILITY
In the event any one or more of the provisions of this disclaimer page shall for any reason be held to be invalid, illegal or unenforceable, the remaining provisions shall remain valid and enforceable.
GOVERNING LAW, VENUE AND FORUM
This Agreement shall be governed by the laws of the State of Nevada in the United States of America and the parties agree to be subject to the exclusive jurisdiction of the Courts of the State of Nevada. In the event of any dispute concerning the copyrighted goods discussed under this disclaimer page or the products or services sold or licensed by the Provider herein, suit may be brought only in a court of competent jurisdiction in the State of Nevada of the United States of America.
CONFLICTS OF INTEREST
As mentioned earlier regarding affiliate marketing, there are links on this website to product(s) or service(s) that may provide monetary benefit to individual contributor(s).  To the best of our knowledge these links do not affect the price charged for the product(s) or service(s) and in some cases result in a discount.  Additionally, all email addresses and other information will be treated with respect and not sold or rented to spammers or other unacceptable third-parties.  I do try to write sincerely and with the best interest of you, the readers, in mind. Nevertheless, I suppose you can treat our writings the way we treat politicians.  We always ask the question:  How does it benefit them if we believe what they are telling us?  We are all big kids, Caveat Emptor.