Tweet
Reading time: 5 – 8 minutes
Surfing the internet usually leaves a huge data trail behind.  Private browsing helps cover digital tracks.
Web Browsers Track Your Internet Movements
Web browsers like Safari, Firefox, Chrome and Internet Explorer, keep track of a lot of the things you do on the internet.  They keep a record of the websites you visit, your login information and sometimes even your password.  This can make web surfing a smoother experience. For example, it can keep you logged in to Facebook whenever you navigate away from it and then return. All of that information is accessible to anyone who has access to your computer.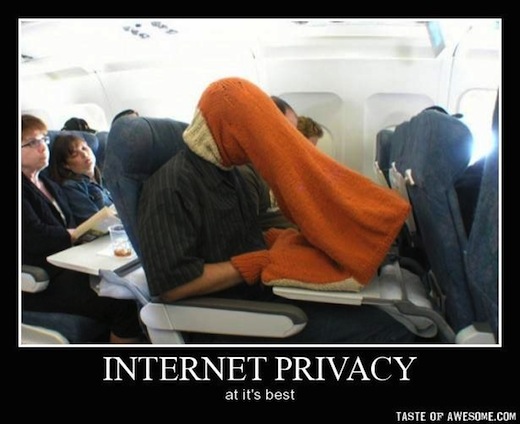 Websites You Visit Create A Data Trail
The websites you visit can also leave behind a trail of data on your computer.  One of the major things they do is install cookies (small tracking software) on your computer to remember your settings, tell when you visit other sites in their ad network and a lot more.  Sometimes malicious software can use cookies to find its way onto your computer.  Cookies can also make the internet surfing experience smoother, but users are hardly aware when and how often they are being installed and what exactly they are doing.
Private Browsing Protects Some Privacy
A simple tool to take more control over cookie management (what a delicious sounding job) is private browsing.  Most browsers have a setting called private browsing (it is called incognito in Google Chrome and InPrivate in Internet Explorer) which will severely limit the web browsing data that is stored on your computer. The private browsing tools work best for a few specific purposes.
If you lend your computer to someone, they won't be able to accidentally or intentionally stumble upon the websites you visit or accidentally pull up your Facebook or email account when they were trying to get into their own if you use private browsing regularly.  It is like putting a lock on your digital medicine cabinet.  Private browsing also works well when you borrow someone else's computer to prevent the same snooping when you give it back.
Private browsing is also helpful when you use a shared computer. If you do a little gift shopping for a spouse on a shared computer, your surprise might be ruined when they see the items you recently viewed on Amazon.com or see the sites you recently visited.
Weaknesses of Private Browsing
Private browsing is not bullet proof. It will prevent a lot of the wide scale data mining that goes on and it will deter accidental and unsophisticated eavesdroppers from finding your internet browsing history.  Also, the different browsers all have different strengths and weaknesses with the overall privacy of their private browsing option.  The most secure private browsing option of any major browser is on Opera.
Secret And Sneaky Data Mining
One of the biggest problems with private browsing is Flash cookies. Flash cookies are most often used with video, like YouTube, but many sites could be using Flash cookies to track users.  These are similar to regular tracking cookies but they are moe sophisticated, less well known, and they do not get erased when you clear your cookies.  Private browsing does not prevent Flash cookies.
3 Simple Internet Privacy Tips
Delete cookies on a regular basis. Private browsing deletes most cookies when you log off, but regularly deleting cookies can help ensure a sanitary browsing history.
Adjust Browser Settings. Most browsers allow you to set rules for which cookies to accept and which cookies to reject. This lets users decide when they prefer convenience over privacy and vice versa.
To delete Flash cookies, or to set preferences for future Flash cookie tracking, check out the Macromedia website.  You can also get a good look at just how much information has been gathered on you by those Flash cookies before you delete them or set any preferences.
Super Secret Ninja Privacy Move
Some browsers, like Firefox and Chrome, offer a portable version. Those versions can be saved to a USB drive and launched from any computer you plug the USB drive into. All cookies, history and tracking data is saved on the USB drive and is not ever recorded by the computer itself. If you store your portable browser inside a TrueCrypt encrypted volume on your USB drive, your browsing history, cookies, internet settings, and lots of other information will be well protected.
Conclusion
Private browsing isn't water tight, but it can be a very useful tool to protect privacy.  Like any tool, it can be modified to give you more or less privacy in exchange for convenience.
And, of course, use a Virtual Private Network (VPN) to keep your IP address private and never trust a VPN that does not accept Bitcoin; a reason we recommend Private Internet Access.
To see how to use private browsing in a more comprehensive approach to privacy, check out the book How To Vanish.
Tweet
23,533 random numbers
Email
Print